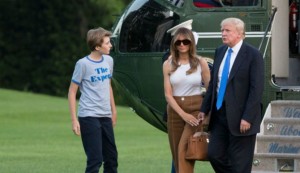 Melania Trump Reportedly Has Designer Clothes Delivered Daily, Will Continue At The White House?
From the The Inquisitr
Despite receiving a backlash from the designer community, First Lady Melania Trump hasn't had any problems finding suitable clothes. Instead, it sounds like Melania had more outfits than she could handle while she stayed at Trump Tower. Will this continue once she's settled in the White House?
According to the Hollywood Reporter, top notch designers from around the world sent Melania clothes on a daily basis. This includes a $50,000 jacket she wore in Italy from Dolce & Gabbana and a jumpsuit from Stella McCartney she donned in Saudi Arabia. Although some designers, such as Tom… Read More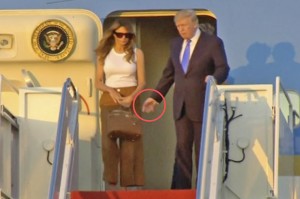 Melania subtly shifts away from Trump's hand AGAIN as she finally moves to White House
From The Daily Star UK
The First Lady is finally moving to the White House after son, Barron, finished his school term in New York.
The Slovenian national was the first spouse in years not to immediately relocate with her President husband, a decision seen as odd by some.
Footage of the 47-year-old, her 70-year-old husband and 11-year-old son stepping out of a private jet circulated yesterday (June 11).
The Donald exits first and waves, followed by Melania looking chic in large dark glasses.
As the President gestures towards her, reaching for her hand, she subtly moves her handbag from… Read More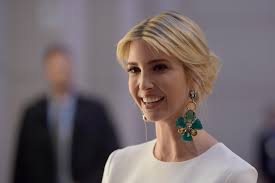 Why is Ivanka Trump wearing a dress off the Target sale rack?
From Moneyish.com
The first daughter dons a discount Victoria Beckham frock to get the bullseye off her back after a rough week.Ivanka Trump was spotted wearing a $35 Target dress – now on clearance for $17.50 – as she left home in Washington on Monday.
The cheap-chic black calla lily satin shift with a ruffled hem comes from the Victoria Beckham for Target collection.
See: Get a piece of that Beckham lifestyle for just $30
Trump may have been looking for a makeover after her recent Pride Month tweet backfired, with critics taking the First Daughter to task for… Read More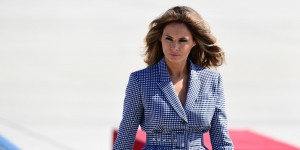 Are Designers Actually Opening Up to the Idea of Dressing Melania Trump?
From W Magazine
Michelle Obama may have had a history of supporting up-and-coming designers—to the point that their resulting fame came to be known as the "Michelle Obama Effect"—but from the very start of President Donald Trump's term, some of the industry's biggest designers have taken a public stance against dressing First Lady Melania Trump, making for a roster that includes Tom Ford, Marc Jacobs, Sophie Theallet, Humberto Leon, Phillip Lim, Derek Lam, and Zac Posen.
Still, Melania has found her ways: She admittedly looked impeccable in each of the five countries she visited on Trump's first international tour… Read More
Is The First Lady Getting Fashion Revenge On The American Fashion Designers That refused To Dress..
From The Inquisitr
On the Trump's first trip abroad, Melania Trump stunned the world with one designer look after another. Did the FLOTUS get fashion revenge on the American fashion designers who publicly refused to dress her?
Page Six spoke to fashion stylist Phillip Bloch, who claims that the fashion world is now aware of the full impact of Melania Trump, and the spotlight on the designers that she is wearing.
"There is a softening, a melting. Fashion people are fickle and fake. They are starting to see she is a beautiful woman who is married to the president, and… Read More