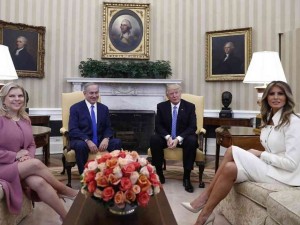 Melania Trump wears stunning skirt suit to welcome Netanyahu to the White House in her first…
The Daily Mail
US First Lady Melania Trump headed down to the nation's capital on Wednesday, where she joined her husband in welcoming Israeli Prime Minister Benjamin Netanyahu and his wife Sara to the White House.
It marked the first official appearance Melania has made since her husband was sworn into office almost one month ago on January 20, with the 46-year-old mother choosing to stay in New York City with her son Barron rather than join President Trump in the White House.
The First Lady stood alongside her husband outside the South Portico of the White House to welcome… Read More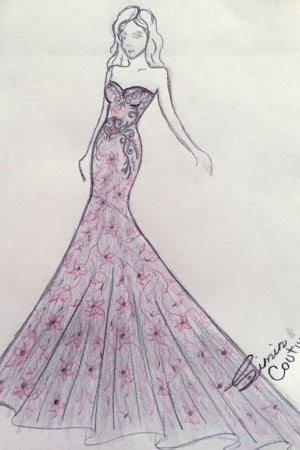 TIFFANY TRUMP'S INAUGURAL BALL DESIGNER: "THIS IS ABOUT FASHION, NOT ABOUT POLITICS"
The Hollywood Reporter
Beverly Hills-based designer Simin Taghdiri of Simin Couture opened up about dressing the youngest of Trump's daughters, as well as her mom, Marla Maples.
Tiffany Trump, who has been working with celebrity stylist Phillip Bloch for the inauguration-weekend festivities, arrived at the Liberty Ball in a strapless, sparkling gown by Beverly Hills-based designer Simin Taghdiri of Simin Couture. The youngest of President Donald Trump's daughters joined her dad and first lady Melania Trump, as well as her siblings and Vice President Mike Pence and his wife, Karen Pence, onstage. Taghdiri also dressed Tiffany's mom, Trump's second wife,… Read More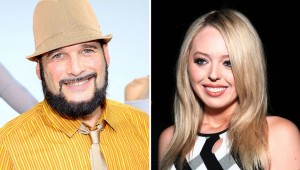 TIFFANY TRUMP WORKING WITH A CELEBRITY STYLIST ON INAUGURAL OUTFITS (EXCLUSIVE)
The Hollywood Reporter
Donald Trump's 23-year-old daughter is carving out a space in the fashion spotlight, too.
Tiffany Trump, the daughter of President-elect Donald Trump and former wife Marla Maples, has been working with celebrity stylist Phillip Bloch on her inaugural weekend looks, The Hollywood Reporter has exclusively learned.
Bloch has been consulting with the mother-daughter duo as a "friend of the family," he says, noting that he has known Tiffany since she was a little girl. "I want to see her have a moment," says the stylist, adding that while both women will be attending all of the… Read More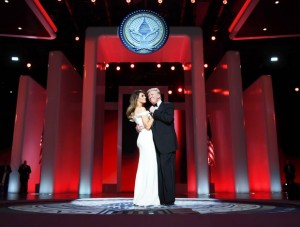 Donald Trump, Melania Trump Share First Dance at Inaugural Ball to 'My Way' —
From US Weekly
The crème de la crème. President Donald Trump and first lady Melania Trump graced the stage at the White House for their first presidential dance at the Inaugural Ball on Friday, January 20. The commander in chief, 70, opted for a slimmer than usual fitted tux while Melania stole the show in a sleek cream Hervé Pierre gown that featured a gorgeous ruffle down the front and a sleek red ribbon belt.
PHOTOS: Donald Trump's Inauguration Day, in Pictures
"My No. 1 supporter, Melania," Trump told the audience before their dance, showing off his stunning wife,… Read More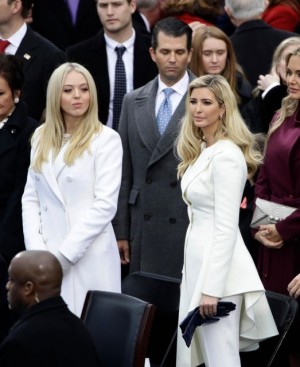 Melania Trump and the Trump family's Inauguration Day fashion: Reem Acra, Ralph Lauren, more
From News Day
Inauguration Day is all about pomp and tradition, but in fashion circles, what people care about is this: Who wore what when? Today's ceremony found the new first lady, a former model born in Slovenia, embracing all-American style by wearing Ralph Lauren. And daughters Ivanka and Tiffany chose all-white ensembles — a call for calm and peace, perhaps? Here are some fashionable highlights of the inaugural festivities.
Inauguration Day found Melania Trump in sky-blue Ralph Lauren—"an American designer who transformed American fashion," according to a statement from the new first lady's spokeswoman. The ensemble includes a double-face… Read More