Is The First Lady Getting Fashion Revenge On The American Fashion Designers That refused To Dress..
From The Inquisitr
On the Trump's first trip abroad, Melania Trump stunned the world with one designer look after another. Did the FLOTUS get fashion revenge on the American fashion designers who publicly refused to dress her?
Page Six spoke to fashion stylist Phillip Bloch, who claims that the fashion world is now aware of the full impact of Melania Trump, and the spotlight on the designers that she is wearing.
"There is a softening, a melting. Fashion people are fickle and fake. They are starting to see she is a beautiful woman who is married to the president, and… Read More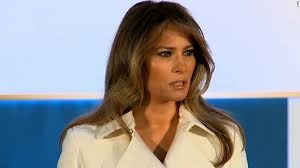 Melania Trump Has Wardrobe Boxes Full Of Clothes Sent To Trump Tower, Doesn't Need Couture ...
From The Inquisitr
With all the buzz about the wardrobe of First Lady Melania Trump circulating on the web, Melania has folks who are defending her sense of style. As reported by the Inquisitr, when Melania recently chose a $51,500 Dolce & Gabbana jacket to wear overseas, that expensive designer jacket gained Melania both criticism and praise.
A new article from Page Six titled "Melania Trump's 'revenge' on designers who won't dress her" sheds some light on how Melania chooses the outfits she plans to wear. Despite the designers who have publicly come out to claim that they won't dress… Read More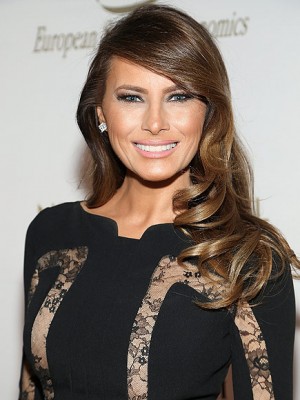 IS THE FASHION WORLD WARMING UP TO MELANIA TRUMP?
From Harpers Bazaar
President Trump went on his first trip abroad after taking office, but it was Melania who came back from it with a new reputation—and possibly better status within the fashion world. Though her husband left foreign leaders like Angela Merkel less than impressed, the first lady got rave reviews during her trip overseas.
Much of that praise centered around her fashion choices, from a black Stella McCartney jumpsuit in Saudi Arabia to wearing Dolce & Gabbana in Italy. CNN reports that she packed a bag for each leg of the trip and consulted with the State Department… Read More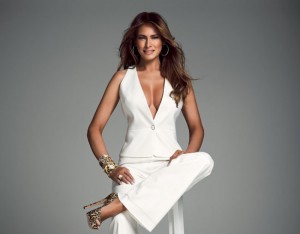 DESIGNERS ARE SOFTENING ON THE IDEA OF DRESSING MELANIA TRUMP
From Paper Magazine
Prior to the election, many fashion designers declared that they would never dress Melania Trump because they didn't want to align themselves with, or normalize the horrific policies of her pissgoblin husband. Among the ranks of the Never-Melanias are designers Zac Posen, Tom Ford, Marc Jacobs, Christian Siriano, Sophie Theallet, Humberto Leon, Phillip Lim and Derek Lam, with designers like Ralph Lauren and Stefano Gabbana eagerly picking up the slack. It comes as little surprise that the designer that made Team USA's uniforms in China and the most shamelessly problematic designer on earth would enthusiastically dress the… Read More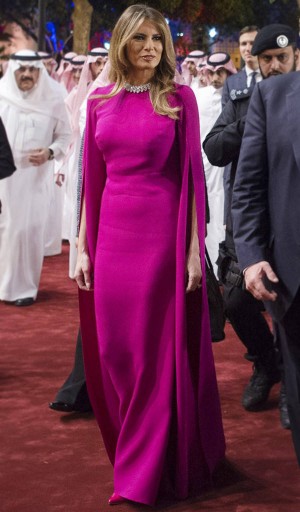 Melania Trump's 'revenge' on designers who won't dress her
From Page 6
Melania Trump is proving to the fashion designers who said they wouldn't help her that dressing well is the best revenge.
The first lady's trip to Saudi Arabia, the Vatican, Belgium and Sicily — wearing mostly Dolce & Gabbana — was a fashion tour de force that has forced many naysayers in the rag trade to rethink.
The list of designers who said they wouldn't dress Melania is long, led by Tom Ford, Marc Jacobs, Zac Posen, Christian Siriano and Sophie Theallet.
But Melania has managed to look smashing in dozens of different ensembles, from her white… Read More