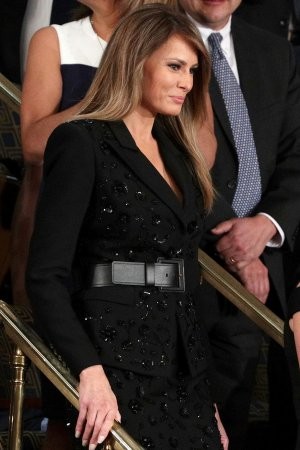 In New York, searching for the reclusive and elusive Melania Trump
Washington Post
The paparazzi no longer stake her out at her son's private school or search for her on the streets surrounding the black tower that her husband, the president of the United States, named for himself.
Like legions of New Yorkers who hibernate in their apartments, Melania Trump is a virtual shut-in, her refuge 58 stories above Manhattan's hoi polloi and laden with enough gold to embarrass a Saudi prince.
"She's the great white whale," said Miles Diggs, a paparazzo, as he and his partner hunted celebrities in Soho on a recent afternoon in a Chevy Suburban equipped with… Read More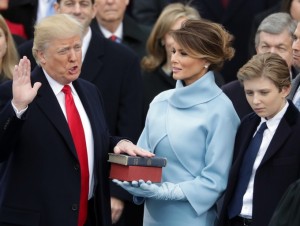 Donald and Melania Trump Never Spend the Night Together
Life & Style Magazine
A new report claims Melania Trump is unhappy as first lady and that she doesn't sleep in the same bedroom as her husband, Donald Trump.
Not only does the former model currently live 200 miles away from the president in NYC, but when she's with the 70-year-old, sources say she refuses to share a bed with him.
"Melania does not keep hidden from everyone around her how miserable she is," a family source tells Us Weekly. "[She] wants as little to do with Donald as possible. She is not interested in Donald, the presidency or anything… Read More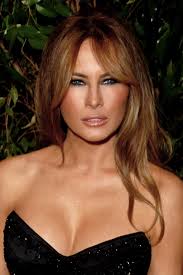 Does Melania Trump Get Designer Freebies? The First Lady's Wardrobe Rules
IB Times
Being the first lady of the United States is not an easy task. One has to be a part of several public appearances such as the countless state dinners, charity engagements and trips with the president, and for every occasion, the FLOTUS needs to be appropriately dressed. As far as the current first lady is concerned, she has already been making headlines about the designer clothing she wears. In her first 56 days as the first lady, Melania Trump dressed nearly appropriately for most occasions, except one or two instances when she drew criticism.
The question that the… Read More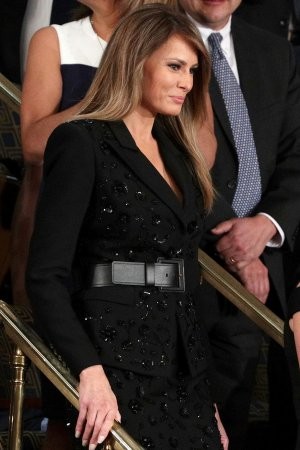 MELANIA TRUMP BUYS CLOTHES, DOESN'T GET DESIGNER FREEBIES - HOLLYWOOD REPORTER
"Why do rich people need free clothes? Melania should buy her clothes," says veteran red-carpet stylist Phillip Bloch, who dressed Tiffany Trump for inauguration weekend.
Much like Hollywood actresses making the rounds for awards season (roughly 20 major public appearances for an Oscar nominee in a mere 3.5 months), being FLOTUS, means countless state dinners, charity engagements and trips to be chicly attired for. First Lady Melania Trump has already stepped out in a series of designer looks for her first 56 days in the role, from Ralph Lauren to custom Herve Pierre and most recently a black beaded $9,590… Read More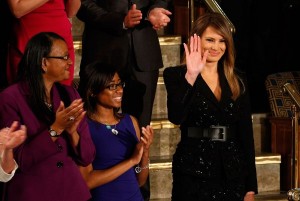 UK 'Miserable' Melania Trump is cheery in $9,600 suit as she receives standing ovation from Congress
IB Times
After IBTimes UK reported last week that the First Lady of the United States is already "miserable" with her new life in the political limelight, the 46-year-old's latest public appearance couldn't tell a more different story.
The Slovenian-born former model also dressed to impress in an ultra chic sequinned Michael Kors black suit which highlighted her svelte figure with its wide black waist belt. And Mrs Trump proved she isn't tight on the purse strings when it comes to fashion, as the jacket retails at an eye-watering $5,000 (£4,053) and the skirt goes for $4,600 (£3,728).
Mrs Trump… Read More