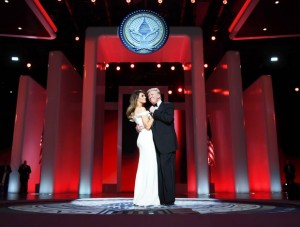 Donald Trump, Melania Trump Share First Dance at Inaugural Ball to 'My Way' —
From US Weekly
The crème de la crème. President Donald Trump and first lady Melania Trump graced the stage at the White House for their first presidential dance at the Inaugural Ball on Friday, January 20. The commander in chief, 70, opted for a slimmer than usual fitted tux while Melania stole the show in a sleek cream Hervé Pierre gown that featured a gorgeous ruffle down the front and a sleek red ribbon belt.
PHOTOS: Donald Trump's Inauguration Day, in Pictures
"My No. 1 supporter, Melania," Trump told the audience before their dance, showing off his stunning wife,… Read More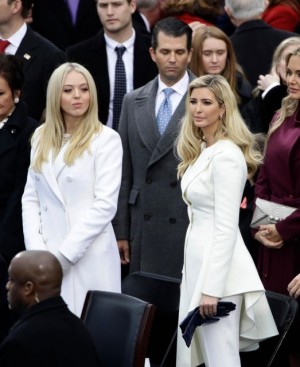 Melania Trump and the Trump family's Inauguration Day fashion: Reem Acra, Ralph Lauren, more
From News Day
Inauguration Day is all about pomp and tradition, but in fashion circles, what people care about is this: Who wore what when? Today's ceremony found the new first lady, a former model born in Slovenia, embracing all-American style by wearing Ralph Lauren. And daughters Ivanka and Tiffany chose all-white ensembles — a call for calm and peace, perhaps? Here are some fashionable highlights of the inaugural festivities.
Inauguration Day found Melania Trump in sky-blue Ralph Lauren—"an American designer who transformed American fashion," according to a statement from the new first lady's spokeswoman. The ensemble includes a double-face… Read More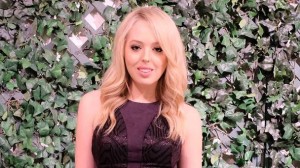 Tiffany Trump and stylist still working on inauguration looks
Tiffany Trump is still deciding on her inauguration outfits.
Stylist to the stars Phillip Bloch, who has known blonde Tiffany since she was a little girl, has given a run down on possible outfits the 23-year-old will wear when her father, Donald Trump, is sworn in as the 45th President of the United States on Friday (20Jan17).
"I want to see her have a moment," Phillip smiled to the Hollywood Reporter.
For the daytime events, Phillip said they're still deciding between coat and dress looks by Israeli designer Elie Tahari and Taoray Wang, a Chinese designer who shows at New… Read More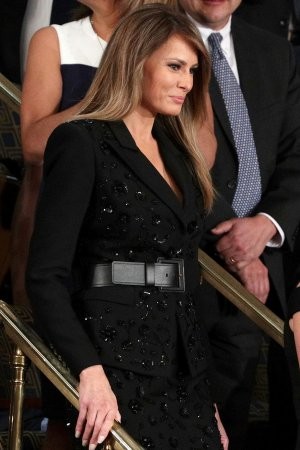 In New York, searching for the reclusive and elusive Melania Trump
Washington Post
The paparazzi no longer stake her out at her son's private school or search for her on the streets surrounding the black tower that her husband, the president of the United States, named for himself.
Like legions of New Yorkers who hibernate in their apartments, Melania Trump is a virtual shut-in, her refuge 58 stories above Manhattan's hoi polloi and laden with enough gold to embarrass a Saudi prince.
"She's the great white whale," said Miles Diggs, a paparazzo, as he and his partner hunted celebrities in Soho on a recent afternoon in a Chevy Suburban equipped with… Read More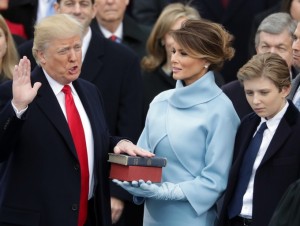 Donald and Melania Trump Never Spend the Night Together
Life & Style Magazine
A new report claims Melania Trump is unhappy as first lady and that she doesn't sleep in the same bedroom as her husband, Donald Trump.
Not only does the former model currently live 200 miles away from the president in NYC, but when she's with the 70-year-old, sources say she refuses to share a bed with him.
"Melania does not keep hidden from everyone around her how miserable she is," a family source tells Us Weekly. "[She] wants as little to do with Donald as possible. She is not interested in Donald, the presidency or anything… Read More