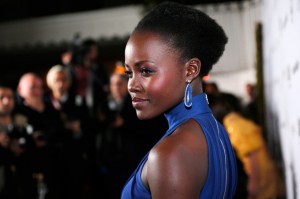 Inside a cover shoot starring Lupita Nyong'o
In The Beginning was "12 Years a Slave." Then came the Word. Showbiz gods said, "Let There Be Light." All magazine, newspaper and candy wrappers immortalized Lupita Nyong'o.
Sunday, indoors at Tribeca, her size-2 body did a cover for Uptown Magazine. Photographer, Marc Baptiste.
Stylist for haute couture bones Phillip Bloch: "Her look was part lacy and nudie ethereal and part all-black edgy." Bloch dressed her in Elie Saab, Dennis Basso, Randi Rahm, Angel Sanchez. Forget sneakers, it's Louboutin, Giuseppe Zanotti shoes. Ring, bracelets, earrings (no Voice from on high mentioned necklaces) from Hueb jewelers.
She opens March 6 at… Read More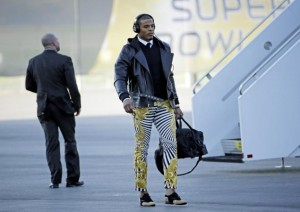 Cam Newton heads to Super Bowl 50 in $849 zebra-striped Versace pants BY NICOLE LYN PESCE
DAVID J. PHILLIP/AP
The $849 Yellow Barocco Zebra Print Jeans from Versace have sold out online.
This quarterback walks on the wild side.
Carolina Panthers QB Cam Newton traveled to Super Bowl 50 in San Francisco wearing fierce $849 zebra-striped Versace jeans.
The MVP frontrunner donned the fitted, stretchy animal print pants overlaid with a contrasting gold pattern on Sunday, and paired them with a sleek pair of suede black loafers sporting gold heels and toes — worn without socks, of course — and a leather jacket.
MYERS: NEWTON, MANNING HIGHLIGHT SUPER BOWL WEEK
Cam Newton was spotted… Read More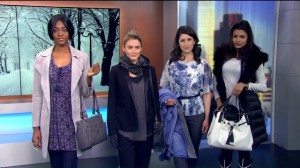 The best looks for the wet and cold weather
It's already the end of January but there are still weeks of cold, wet weather and one of the worst things about the weather is trying to be fashionable and warm.
Celebrity stylist Phillip Bloch had a few suggestions that will help you stay in cute in the cold.
Below are featured items seen on PIX11 Morning News:
Sawyer Office Blues
SKY BLUE WOOL COAT W/ FAUX FUR TRIM EXCLUSIVE FOR BLOOMINGDALES- Dawn Levy ($540) http://www.dawnlevydesign.com
TOP IS FLORAL CHIFFON FLUTTER SLEEVE W/ SATIN RIBBON BELT AND PLEATED PEPLUM TOP - DRESSBARN ($48.00) http://www.dressbarn.com
CROP SECRET… Read More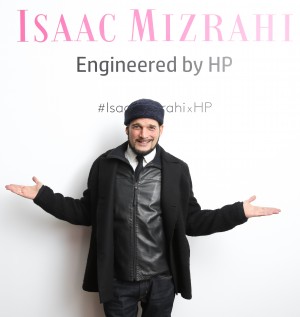 Isaac Mizrahi + HP Celebration
Pjillip Bloch attends Isaac Mizrahi + HP Celebration in NYC 1.28.16
HP has announced the newest smartwatch in a series of collaborations with big brand names, and this one comes from Isaac Mizrahi. Like the others in the "Engineered by HP" series, this watch eschews a big color touchscreen, which we've come to consider as a standard for a smartwatch. Instead, a small screen sits just underneath the mirror-finish face, and can serve up only basic notifications from your phone.
The Isaac Mizrahi Smartwatch, as it's being called, will also do basic activity tracking. At $249, it's the cheapest in… Read More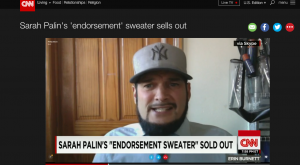 Sarah Palin's 'endorsement' sweater sells out
Critic compares Sarah Palin's sweater to a spikey critter. CNN's Jeanne Moos reports on the fashion frenzy over the "endorsement sweater."
Read More