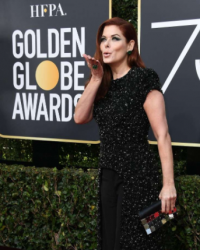 Red Carpet Fashion Blackout at Golden Globes Seeks to Bring Awareness
Photo by Valerie Macon - AFP/Getty Images
On the heels of several major Hollywood sexual harassment and assault scandals in 2017, including the multiple rape allegations against comedian Bill Cosby and the reports of decades of abuse against women by producer Harvey Weinstein, more than 300 actresses and other entertainment professionals co-founded the Time's Up initiative in December to combat systemic sexism in the industry and beyond. The red carpet blackout and black-and-white Time's Up buttons worn by many were the first major public act of the initiative, which also has raised more than $15 million for a legal fund… Read More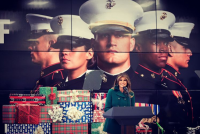 Melania Trump Is "Very Concerned About Appearance," Rarely Shows Flaws, Unlike Previous First Ladies
If President Donald Trump is known as the Twitter president, then Melania Trump is more aptly the Instagram First Lady, according to social media expert Jennifer Golbeck, an associate professor at the University of Maryland.
Golbeck analyzed Melania's Instagram and Twitter use during the first year of the Trump Administration to determine her public communication style. She told The Washington Post that there are clear distinctions in how Melania portrays her image as a First Lady—like her official portrait compared to former First Ladies. Golbeck called it "really very lovely but different from some of the others, which show more… Read More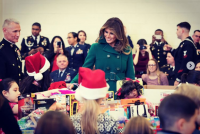 Seen But Rarely Heard: How Melania Trump Is Approaching the Public Role of First Lady
The relatively quiet first lady is very different from her husband when it comes to their public communication styles, said Jennifer Golbeck, an associate professor at the University of Maryland at College Park and an expert in social media. If he is the Twitter president, she is the Instagram first lady.
Trump's professional background as a model comes through in the photos, said Goldbeck, who analyzed the first lady's postings on Twitter and Instagram over the past year.
"She's very comfortable in front of a camera," Goldbeck said. Her use of social media is "very formal. She's trying as much… Read More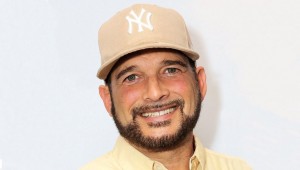 Introducing Hollywood Fashion Shoots for the Masses (for $30,000)
Stylist Phillip Bloch is at your service.
Before Rachel Zoe became a household name, Phillip Bloch was the OG celebrity stylist, who, after dressing 12 stars for the 1997 Oscars (including Salma Hayek in a trend-setting tiara, below), signed with William Morris Agency, published a book and became a spokesman for Lycra and Visa.
After a few career twists (including styling Tiffany Trump for the inauguration, ahem), he has a new gig offering red carpet treatment to the luxury-paying public. "People are bored with shopping, so I created luxury retail and fashion experiences," he says.
Named after fashionable films, Bloch's… Read More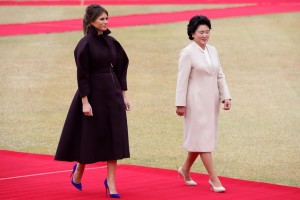 Melania Trump's Asia Trip Fashion Could Pay For A Year Of College
The current first lady has long received comparisons to fashion icon — and former first lady — Jackie Onassis, at least as far as her clothing choices are concerned. And Melania Trump's fashion pieces on her Asia trip are more evidence that the former model doesn't mess around when it comes to her wardrobe. So far, after just six days in Asia, Trump's fashion could've paid for a year of college.
Trump left China for the U.S. on Friday, Nov. 10, after arriving in Asia on Nov. 5. She had been accompanying her husband on a tour of China,… Read More