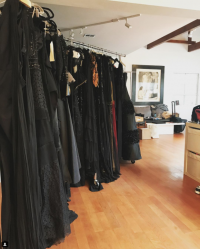 Photo by Cristina Ehrlich / Instagram
The Golden Globes red carpet has been home to many iconic fashion moments, but this year's pre-award show promenade will be fueled by one mantra: don't stand out, stand up.
Black dresses will rule the red carpet at Sunday's Golden Globes in a show of solidarity for the mission of anti-sexual harassment group Time's Up.
"Honestly, for this, it wouldn't be an option to not wear black," Welch said. "I can't imagine working [with] an actor who wouldn't want to support this."
Celebrity stylist Phillip Bloch agrees, saying straying from black would be an "incredible faux pas," even if it was done as a result of simple unawareness of the effort.
"This is not a competition, this is a sisterhood," he said. "We want everyone to know this is what we're doing."
Read the whole story by clicking the link below.