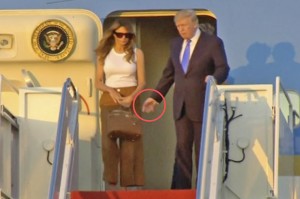 From The Daily Star UK
The First Lady is finally moving to the White House after son, Barron, finished his school term in New York.
The Slovenian national was the first spouse in years not to immediately relocate with her President husband, a decision seen as odd by some.
Footage of the 47-year-old, her 70-year-old husband and 11-year-old son stepping out of a private jet circulated yesterday (June 11).
The Donald exits first and waves, followed by Melania looking chic in large dark glasses.
As the President gestures towards her, reaching for her hand, she subtly moves her handbag from arm to arm and the couple descends the stairs without touching.
Only last month footage when viral of the First Lady appearing to slap away Trump's hand during a Presidential tour of the Middle East.
And during Trump's inauguration another video circulated like wildfire as eagle-eyed viewers spotted her face dropping as soon as her hubby turned away from her.
According to a Trump family friend, stylist, Phillip Bloch, Melania is "struggling to cope" in her role as First Lady.
He told US Weekly: "This life wasn't her dream. It was Donald's.
"Truthfully, it's a lot to cope with."
Trump has postponed his state visit to the UK amid alleged fears he will not be received warmly by the British public.