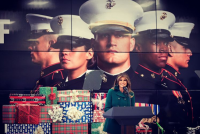 If President Donald Trump is known as the Twitter president, then Melania Trump is more aptly the Instagram First Lady, according to social media expert Jennifer Golbeck, an associate professor at the University of Maryland.
Golbeck analyzed Melania's Instagram and Twitter use during the first year of the Trump Administration to determine her public communication style. She told The Washington Post that there are clear distinctions in how Melania portrays her image as a First Lady—like her official portrait compared to former First Ladies. Golbeck called it "really very lovely but different from some of the others, which show more flaws."
"It's not a negative attribute, remarked Phillip Bloch, an American stylist and associate of the Trump family. He said Melania is "very concerned about appearance," similar to Jackie Kennedy or Audrey Hepburn in public life.
"You never see her with a hair out of place," Bloch told The Washington Post.
Read the whole story by clicking the link below.