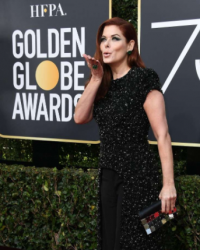 Photo by Valerie Macon - AFP/Getty Images
On the heels of several major Hollywood sexual harassment and assault scandals in 2017, including the multiple rape allegations against comedian Bill Cosby and the reports of decades of abuse against women by producer Harvey Weinstein, more than 300 actresses and other entertainment professionals co-founded the Time's Up initiative in December to combat systemic sexism in the industry and beyond. The red carpet blackout and black-and-white Time's Up buttons worn by many were the first major public act of the initiative, which also has raised more than $15 million for a legal fund to fight harassment and gender inequality in workplaces beyond Hollywood.
"This is mega because it's everybody and everyone," Hollywood stylist Phillip Bloch said before the award show. "It affects the women, and it's the way the women can speak back, using fashion." Bloch, whose clients have included Salma Hayek, Halle Berry and Jennifer Lopez, said that he would be surprised to see any major female star not wearing black on the red carpet, given the momentum of Time's Up and the earlier #MeToo movement, where women shared their stories of harassment and assault. As Bloch predicted, actresses followed suit and wore black, although the occasional gown was accented with a pop of color. The women's looks themselves ranged from flesh-covering and flowing to body-conscious and flesh-baring. Pantsuits were more plentiful than in previous years on stars like "The Crown" nominee Claire Foy and previous Golden Globe winner Rita Moreno. In addition to many men wearing Time's Up buttons (including Tom Hanks, James Franco and Justin Timberlake) several also wore black shirts and ties with their tuxedos, including Zac Efron, Darren Criss and Steven Spielberg.
Read the whole story by clicking the link below.
>