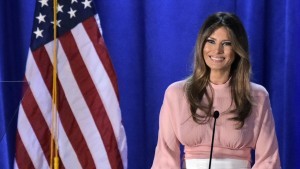 NY Post
For months, designers like Tom Ford and Marc Jacobs have vowed they'd never let their frocks grace Melania Trump (at east not for free — FLOTUS is an avid Net-A-Porter shopper). But Reem Acra didn't play politics when it came to designing Melania's stunning gold- embroidered inauguration gown.
"I cannot tell you what this does for me as a person, that I have achieved dressing the first lady," Acra tells Threads. "It's a huge deal."
When the president's ex-wife Marla Maples and daughter Tiffany Trump approached celeb stylist Phillip Bloch to consult on inaugural wear, he reached out to several designers.
"People said no, and then they kind of came back and said, 'Well, maybe . . . ,' " says Bloch. "Fashion people are supposed to be so creative and so ahead of the pack, but really they are all just followers."
The stylist himself wasn't shaken: "I like a challenge and I am an American before everything. This is about women's rights — women's right to look good."
Acra, meanwhile, is already trying her hand at global diplomacy, moving her fall ready-to-wear show from NYC to Paris this month.
"When you see what's going on out there [during fashion month], the whole world is in confusion," Acra says. "I have to think in a very different way and figure out how I want to promote my brand." We're guessing she wants it to be yuuuge.