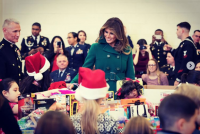 The relatively quiet first lady is very different from her husband when it comes to their public communication styles, said Jennifer Golbeck, an associate professor at the University of Maryland at College Park and an expert in social media. If he is the Twitter president, she is the Instagram first lady.
Trump's professional background as a model comes through in the photos, said Goldbeck, who analyzed the first lady's postings on Twitter and Instagram over the past year.
"She's very comfortable in front of a camera," Goldbeck said. Her use of social media is "very formal. She's trying as much as she's comfortable to give a personal glimpse of herself, but it is clearly hyper-controlled. . . . There are a lot of [photos of] her impeccably dressed with perfect hair — that's what I get from the imagery."
Trump's approach to her image was signaled with the release of her official portrait in April, said Gutin, who called the portrait "really very lovely but different from some of the others [issued by first ladies] — which show more flaws."
Phillip Bloch, the stylist who is a longtime associate of the Trump family, said "I think she is very concerned about appearance. I'm not saying that in a negative way. Like a Jackie Kennedy, like an Audrey Hepburn, you never see her with a hair out of place."
In one of her more recent Instagram posts, Trump seemed to be trying to lighten her image — offering a wide-eyed smoochy face with a photo filter that superimposed a Santa hat and dancing golden reindeer. It quickly became one of her most-liked photos.
Read the whole story by clicking the link below.