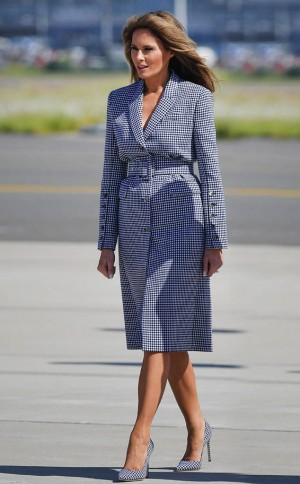 From Style Nine
Celebrity stylist Phillip Bloch, who has worked with Nicole Kidman and Halle Berry, has signalled a shifting mood in fashion towards US First Lady Melania Trump.
Following that $70,000 Dolce & Gabbana jacket in Sicily and her selection of Michael Kors and Ralph Lauren outfits on her trip to Saudi Arabia, the Vatican, Belgium and Sicily, Philip says that designers who are refusing to dress Melania could change their minds.
"There is a softening, a melting," Phillip told the New York Post. "Fashion people are fickle and fake. They are starting to see she is a beautiful woman who is married to the president, and it is an honour to dress her.
"She doesn't need couture. She can buy off the rack, and it looks beautiful. She knows her size, and she knows what works on her. She luxuriates in minimal."
Despite Phillip's comments the list of designers who refuse to dress Melania because of her husband's views on immigration and gender equality is impressive. Tom Ford, former Louis Vuitton designer Marc Jacobsm Christian Siriano and Sophie Theallet have all spoken out against Trump.
Even the Washington Post's fashion editor Robin Givhan has come out in support of Melania, defending her selection of a Dolce & Gabbana coat that cost the median wage of a US worker. "Frankly, the floral coat is beautiful," Robin wrote.
While Melania's style status remains a long way off former First Ladies Jackie Kennedy and Michelle Obama, there has been definite signs of improvement since her glamour model selections displayed at previous Met Galas.